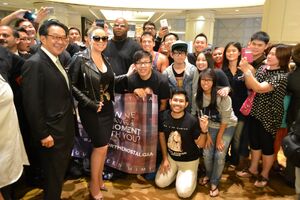 The Lambily is what mariah calls her fans together as a group. The name is a combination of Lamb and Family, which means to be a group of Mariah fans or what she calls her fans as a group in total. She calls a person who is a fan, a Lamb, and she normally dedicates majority of things to her Lambs and appreciates the gifts given to her. The term began during the late 90s and widely used during her Rainbow Tour.

MARIAH IS HOT
Background

[

]
By the (now defunct) Lambily website, the inital fanbase was suppsoedly to be called, Butterflies, but didn't work out when Mariah would start calling her close friends, family members, loved ones and, obviously, her fans as "lambs" during 2000. Orignating as a term of endearment, the term 'lamb' would refer to the fans as, "following the leader", the leader being Mariah herself.
She has been using her term 'Lamb' ever since, and she still has been dedicating a majority of her songs to them throughout her setlist because of pure love. Sometimes she would refer to the Lambily as Lambies, which is normally plural for lamb and used commonly as a term of endearment. 
Goats

[

]
Haters, or fake Lambs of Mariah's is called, a Goat. Played off as a joke to the Lambs for untrue and hater Lambs who do not support Mariah or who critcize Mariah for her actions or music.[1]
Lamb Appreciation Day!
[
]
Originally supposed to take on February 11th, 2012 (as a reference to her 1997 song, Babydoll lyric, "It's 2.11""), this was initially a day were Mariah would just purely dedicate the entire day to her Lambs and go on to celebrate the fan-mail and gifts sent to her. She was also supposed to give a Lamb a free makeover by her styling team and also do some crazy fun things that day to show her devotion. 
Sadly, the event was cancelled due to the tragic passing of long-time friend Whitney Houston. She sadly passed away on the event which resulted Mariah to cancel the whole thing and would spend time focusing more on Whitney. Eventually, clips leading up to Lamb Appreciation Day were still put on to Mariah's Youtube account and would express her condolences to Whitney's family and mourn the legendary singer too.
To this day, Mariah still has not put a Lamb Appreciation Day due to 2.11 being the passing day of Whitney, but still loves her fans very dearly and gives her all to make the Lambs feel loved.
References
[
]